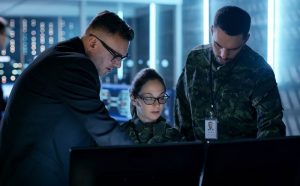 Today is National Hire A Veteran Day, a special day that was established in 2017 to focus attention on the employment needs of US military veterans. You could say it's a call to action for employers.
At LRS Consulting Services, we constantly strive to answer that call. Currently, self-identified veterans account for 3.8 percent of our employee headcount, which is lower than the 6.4 percent of the US population that is military veterans.
Just a year ago, veterans made up 7.5 percent of our headcount, which shows the fluid nature of the IT staff augmentation business.
Our efforts to answer the call includes partnering with clients who focus their efforts on hiring veterans. Part of that focus is to thank them for the sacrifices they made by serving in the US military, and part of that focus is to benefit from the positive qualities veterans bring to the civilian workplace.
After all, veterans have the ability to persevere through difficult times. They're disciplined, and they're not going to give up just because the work gets hard.
Veterans also have a strong sense of mission, coming from a background in which everything they do is oriented to the mission of defending the country. The goal is always excellence toward the mission instead of excellence for personal gain.
And veterans respect the chain of command; they understand the amount of respect that is due to people in areas of responsibility.
One of our employees who's a veteran joked that veterans are used to being told what to do, especially when they're called in to work an unscheduled shift.
So when one of our largest clients asked us to help them focus on placing veterans in their IT environment, we were ready. We partnered with Hire Heroes USA, Indeed Military, Veteran's Support Network, and the DoD Transition Assistance Program. Over a period of several months when we placed over 100 consultants with the client, 17 of those consultants were veterans.
That means 16.5 percent of our consultants were veterans, well above the benchmark of 6.7 percent set by the Office of Federal Contract Compliance Programs (OFCCP).
We're pretty happy with that result. We were also happy to read the Employment Situation of Veterans report for 2022 from the Bureau of Labor Statistics, which said the unemployment rate for all veterans fell to 2.8% last year, compared with 3.6% for nonveterans.
We also noticed that the overall unemployment rate for June was 3.6% unemployment, with 3.1% for adult women and 3.4 for adult men.
So veterans are doing well nationwide.
We think that's a good thing. After serving for years in the nation's defense, veterans shouldn't have a difficult time finding work when they return to civilian life.