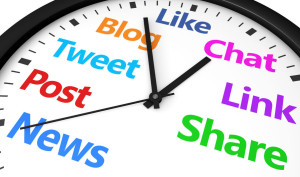 Are you using social media to promote your brand? It's one of the fastest-growing and most effective ways to promote yourself and your business. But which sites are best for you and your company? Check out some amazing (and sometimes surprising!) statistics from the most popular social networking sites that can help you decide:
Twitter. Think Twitter is only for teenagers and twenty-somethings? Many people — and companies — pass on using Twitter as a marketing tool because they think it's a site only for young people with little purchasing power. Yet a Twitter rapidly-growing demographic is users in the 55-64 age bracket, and the site can be a great way for a wide range of companies and business professionals to market themselves. Some 100 million people use Twitter every day, and more than 80 percent are 'tweeting' using mobile devices.
Facebook. A presence on Facebook is almost a necessity nowadays. Nearly three-quarters of all adults who use the Internet visit Facebook at least once per month. Nearly 30 percent of users are in the 25-34 age range, and millions of them access this social media site only from a mobile device.
LinkedIn. Every second, LinkedIn, which has more than 467 million users, welcomes two more. More so than other types of social media, LinkedIn has a business-to-business feel. It's an excellent way to build your brand. The average LinkedIn user spends 17 minutes per month on the site.
Pinterest. Want to reach out to a predominantly female audience? About 85 percent of all Pinterest users are female, and about one-quarter of Pinterest users use it at least once a day.
YouTube. YouTube reaches more adults in the United States between the ages of 18 and 49 than any cable network. Each month, users watch about 3.25 billion hours of video on this site.
Google+. Google+ is the second largest social media network, second only to Facebook. Just like Facebook, the 45-54 year age bracket is the fastest growing demographic on Google+.
Instagram. More than 30 billion photos have been shared on Instagram to date. Nearly one-quarter of teenagers consider Instagram to be their favorite social network.
The power of social media should not be underestimated. Take some time to build profiles on the channels that best appeal to your target demographic. And be sure to maintain your presence on the sites once you're on there!